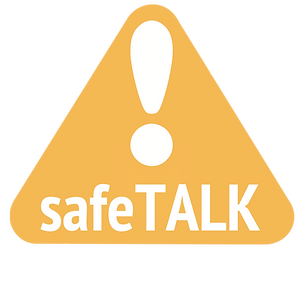 Suicide Alertness for Everyone (safeTALK)
SafeTALK is a half-day training program that teaches participants to recognize and engage persons who might be having thoughts of suicide and to connect them with community resources trained in suicide intervention. SafeTALK stresses safety while challenging taboos that inhibit open talk about suicide.
The program recommends that an ASIST-trained resource or other community support resource be at all trainings. The 'safe' of safeTALK stands for 'suicide alertness for everyone'. The 'TALK' letters stand for the practice actions that one does to help those with thoughts of suicide: Tell, Ask, Listen, and KeepSafe.
The safeTALK learning process is highly structured, providing graduated exposure to practice actions. The program is designed to help participants monitor the effect of false societal beliefs that can cause otherwise caring and helpful people to miss, dismiss, or avoid suicide alerts and to practice the TALK step actions to move past these barriers.
Six 60-90 second video scenarios, each with non-alert and alert clips, are selected from a library of scenarios and strategically used through the training to provide experiential referents for the participants.
SafeTALK was developed by LivingWorks Education to complement longer suicide intervention training. Developers in Australia and Canada designed and field trialed the program in 2004-05 based on stakeholder reports of a training gap between short suicide awareness sessions and longer suicide intervention skills training.
Program Objectives
After training, participants in the safeTALK program should be able to:
Challenge attitudes that inhibit open talk about suicide.
Recognize a person who might be having thoughts of suicide.
Engage them in direct and open talk about suicide.
Listen to the person's feelings about suicide to show that they are taken seriously.
Move quickly to connect them with someone trained in suicide intervention
Implementation Essentials
2.5-3.5 hour training by a certified safeTALK trainer.
Sign up to be notified about the next available dates.